We have been lucky enough to engage with some amazing people from across Wiltshire, the UK and all corners of the world on our journey to date.
Here's a bit about our evolution and a handful of the incredible individuals we've met along the way ...
Vicki, the Volunteer
Vicki joined us from sheltered housing, having found herself isolated in a new town.
She started coming to share meals with us, discovering and enjoying a new way of eating by using surplus food supplemented with fresh local produce. Through the people she met and the regular contact she was experiencing, Vicki quickly gained confidence and rediscovered her independent nature.
She has now set up her own healthy lifestyle business and offers her support to us as a volunteer.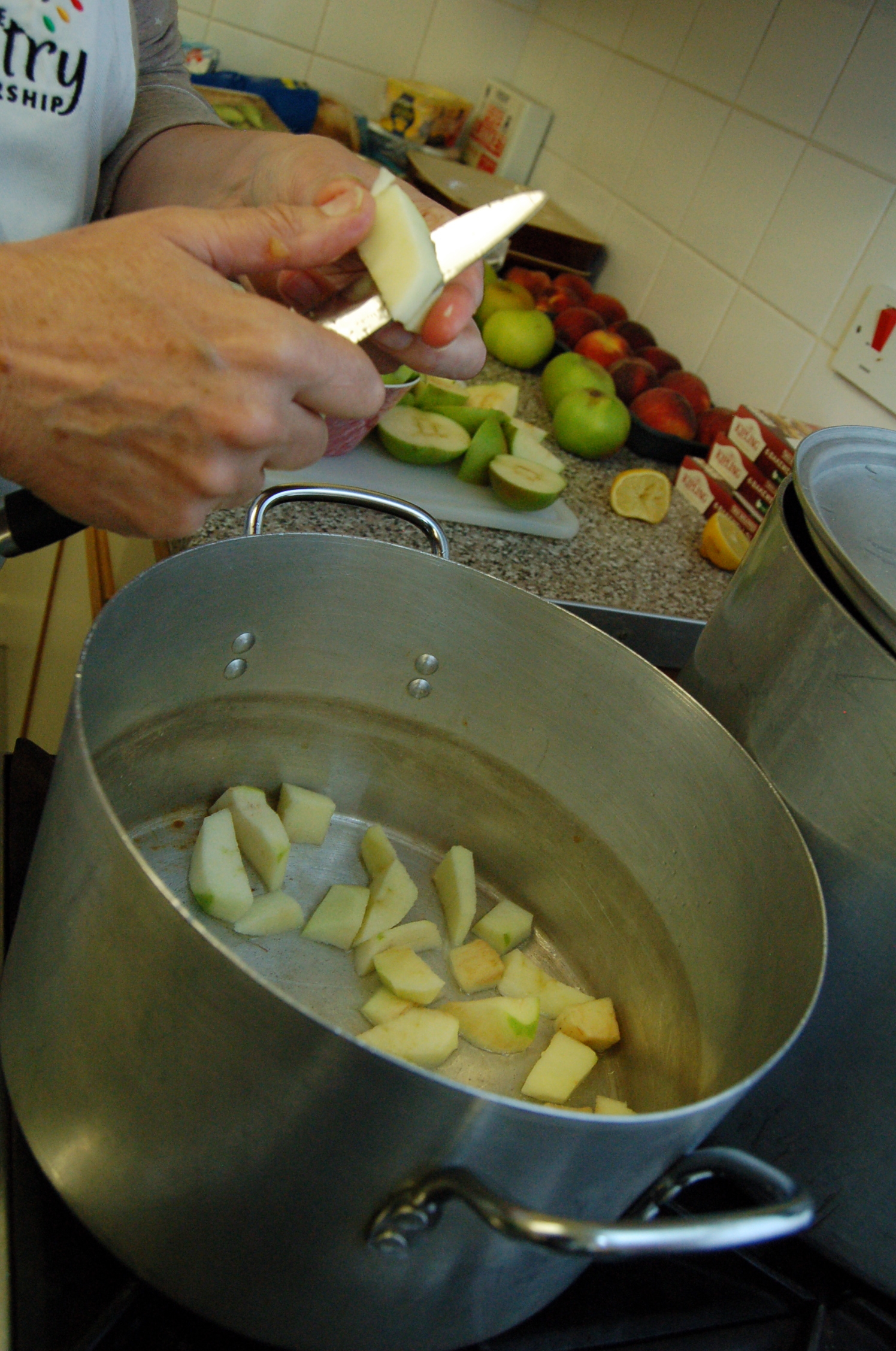 Jim and Cathy, the Carers
Cathy's husband has dementia and she says that coming to our cooking sessions has given her a new lease of life.
She's been able to meet other people in a similar position to herself, re-engaging with fresh food in the kitchen and learning skills that she uses to support her husband at home.
Jim's wife also has dementia. Jim, an ex naval officer, has taken on the role of main carer and, on occasions, also looks after his young grandchildren.
Jim came to cooking sessions held by The Pantry Partnership through the Alzheimer's Society. He is now an able cook, creating all manner of dishes and even juggling dumplings! He tells just that he thoroughly enjoys his new-found skills and is proud of the delights he creates for his family from his kitchen.
Faithful, the Entrepreneur
Having been provided with a stove by The Pantry Partnership, Faithful modified it with discarded biscuits tins and created a fully functioning oven. She'd seen similar ovens being crafted when she spent time spent in the city. She now makes pies to sell at the local market (in batches of 100!) - using her fuel-efficient stove to heat her oven - and is proud to fully provide for the needs of her young family. We love her entrepreneurial spirit.
Our Roots
It all started back in 2011.
We had a dream that our passion for cooking and reducing waste could be channelled into helping others to enjoy fresh, nutritious meals and to make more from less.
Our ideas and ambitions have evolved over time. We started out working further afield but quickly realised there was lots we could do closer to home.
Initially we hosted 'Next to Nothing' Pantry Parties to raise funds to support a large community project in Ghana. With momentum building, we teamed up with our lovely friends at Foodcycle HQ and launched a first for Salisbury - a community hub serving meals made from food destined for landfill.
Next we grew our public events in order to raise funds for our community initiatives, holding 'Next to Nothing' cookery workshops (and other similar sesions). Activity of that kind continues today and allows us to help individuals identified by our local charity partners - including the wonderful Trussell Trust (with whom we worked alongside to create and run 'Eat Well, Spend Less' cooking programmes) - who might be in need of our support.
We were super proud to win the 'Wiltshire Healthy Eating Award' in 2014 for our work with The Alzheimer's Society.
In 2015, we secured our plot of land and started to run our 'Surplus Supper Clubs' to broaden our reach within the community. As time goes on our work continues, our plot flourishes and our team provide the energy and enthusiasm to allow us to keep on growing (in every sense!).
Follow us on Facebook and Twitter to keep up to date with our current activities.
Thanks for the Compliments!
It's always great to get positive feedback and we've been lucky enough to receive a huge number of compliments along the way. Here's what some of our visitors and customers have said:
"I always feel so welcome here, I would like to thank the Pantry team for their hard work and dedication. It's wonderful to think how they create these delicious meals from next to nothing - it's like a large-scale Ready Steady Cook!"
"A gem of a place to find amidst a town of fast food and takeaway restaurants."
"Not only did I learn new ways to cook but I also have never cooked with a group of friends before. It was such fun, I will definitely do it again ... and all to help other people."
"This is the only thing that he gets up for in the mornings. He loves coming here and loves that at last he feels he has a purpose and place in life. Thank you."
"The dancers at your Indian Feast were fabulous, bringing a little bit of culture and joy to Salisbury. The street food was AMAZING!"
Awesome Others
We've been lucky enough to meet some pretty awesome people along the way. Here are just a few.